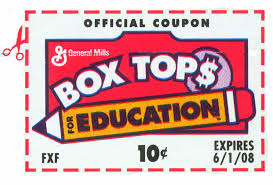 BOXTOPS FOR EDUCATION

We participate in the "Boxtops for Education" Program!
When you purchase products with the 'boxtops for education" logo, clip off the logo from the packaging and save them in an envelope. Once a month, send them to school and we process them and trade them in for classroom materials and supplies.
This is an easy way for you, and your friends and family, to support Prince of Peace Preschool and
help us obatin FREE supplies!
CAN YOU HELP? We need a few parents to clip and sort our boxtops. Please see Mrs Lester or our secretaries if you have an hour once a month to help out.